The licensing ceremony to grant the member units of Department of General Medicine was held on the morning of September 4, 2018.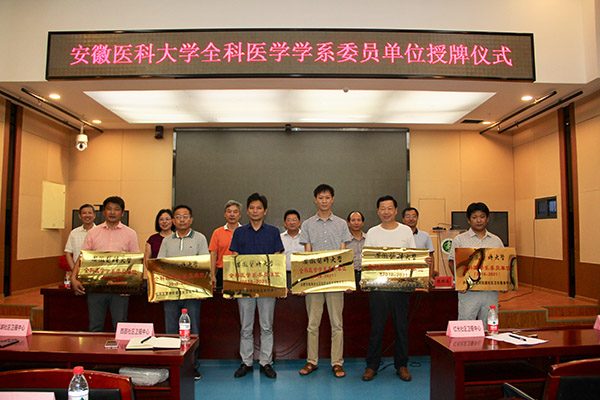 Vice President Zhu Qixing attended the ceremony and awarded licensing plates to 10 teaching hospitals in Anhui province and 20 directors from the training bases of General Medicine. Zhu, together with Deputy Mayor Fan Hengbi from Shushan District, unveiled the licensing plates to authorize the Community Health Center in Sanli'an Street as a member unit as well.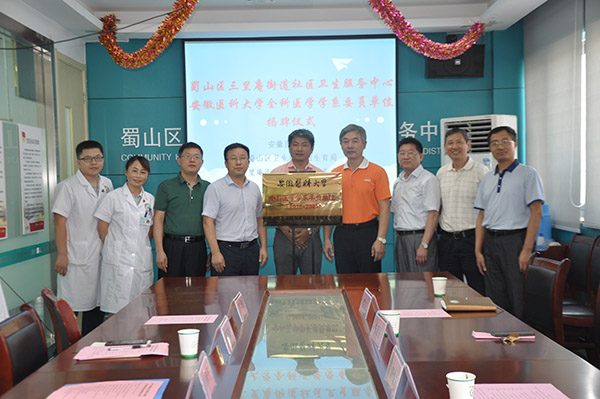 At the ceremony, Zhu Qixing said that the CPC party and the Government take seriously the training and employment of general practitioners. As a medical university, we attach great importance to the general medical education, increasing stepwise the standardized training for general practitioners, expanding the enrollment scale for graduates with Master's degrees, and supporting General Medicine departments in affiliated hospitals to develop their own disciplines and to improve the cooperation with the training bases. We hope that through the close connection and cooperation between affiliated hospitals and community training bases, we could build an academic exchange platform for medical researches and a steady teaching group including instructors in community practice bases. By doing so we are able to promote the development of general medicine in our university, to improve the quality of personnel training of general medicine, and to contribute "Anhui wisdom" to the development of general medicine in China.
The director of the Department of General Medicine introduced various teaching and academic activities which had been carried out since the establishment of the Department. Those attended the ceremony included the heads from the Department of Hospital Administration, the First Affiliated Hospital, the Affiliated Chaohu Hospital and the Department of General Medicine, and directors from the other affiliated hospitals, 30 teaching hospitals and the training bases.