From December 17th to 18th, a group of three people from Sino-American Education Integration + High-level Application-oriented University Construction Project Team by Ministry of Education visited our university. Vice President Yu Yongqiang met with the project team and held talks.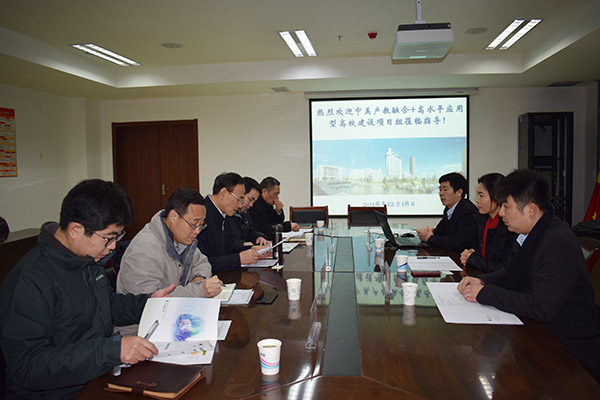 The two sides held in-depth talks about course introduction, teacher training, talent cultivation and professional certification, etc. Through talks, the two sides hope to enhance understanding on the basis of further communication and interaction in the future, and win more abundant cooperation resources and broader space for development.
It is reported that "Sino-American Education and Integration + High-level Application-oriented University Construction Project" is an initiative of the Ministry of Education to deepen the cooperation in the field of applied technology education between China and the U.S. on the basis of the "Double Hundred Plan". The project is jointly promoted by National Center for Schooling Development Programme and Global Corporate College-Global Applied Technology Education (GCC-GATE) to achieve deep cooperation between 100 pairs of universities, 100 pairs of universities and enterprises, and jointly cultivate high-level application-oriented talents with international standards and international vision. The project supports involved universities to build competitive discipline clusters, enhance the capabilities of curriculum development, faculty construction, talent cultivation, academic evaluation, innovation and entrepreneurship, and strengthen international cooperation as a platform and channel to promote university-enterprise cooperation and university-city cooperation. It also helps enhance the vitality of universities' reform and innovation and promote the systematic reform of application-oriented universities.
The heads of Foreign Affairs Office, Department of Studies, Department of Development and Planning, and Department of Personnel attended the meeting.