On the afternoon of December 18, 2020,the first lecture of "Distinguished Alumni Forum" was held at AHMU (Anhui Medical University). Prof. Wei Wenbin, an outstanding alumnus of AHMU, was invited to give the lecture. President Cao Yunxia presided over the report meeting. She presented Prof. Wei with the memorial certificate of "Outstanding Alumni Forum".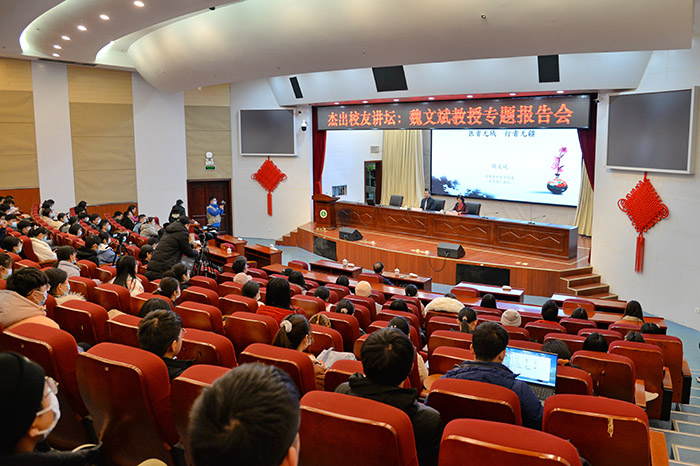 President Cao stressed that alumni are not only the most valuable wealth and the most beautiful business card of AHMU, but also the educational resources with the highest affinity. Inviting outstanding alumni to give lectures will help students to learn from the role models, work harder, establish elite consciousness, and improve their integrated abilities.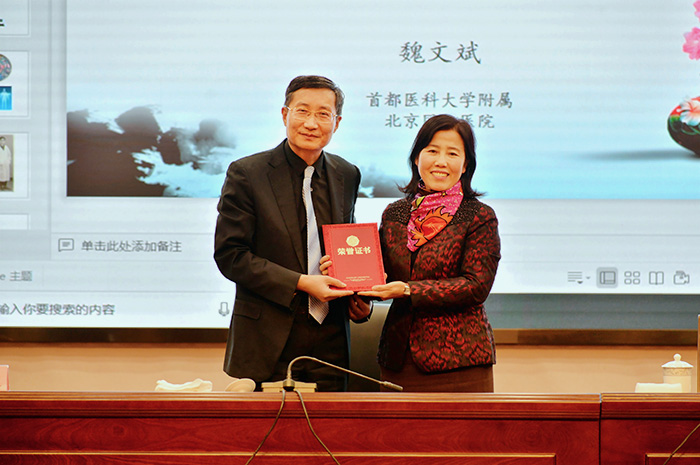 Prof. Wei delivered a lecture on Doctors Unconfined to a Specialty, Practitioners Unrestrained by the Territory. He shared his struggles, life experience, thoughts and insights with the teachers and students of AHMU. And he explained the importance of constant self-cultivation. He hoped that students would be diligent and persistent, maintain psychological balance, perceive the beauty of life, be proud of their alma mater and be proud of being a student of AHMU, pursue knowledge, and bring honor to AHMU with their practical actions.
Prof. Wei Wenbin is an outstanding alumnus of AHMU. He is a doctoral supervisor, vice president of Beijing Tongren Hospital, CMU, director of Ophthalmology Department, deputy director of Tongren Ophthalmic Center, and vice dean of Ophthalmology College. He is a famous expert on fundus diseases at home and abroad and an outstanding mid-aged expert of the National Health and Family Planning Commission, awarded with government subsidies of the State Council. He is a winner of both Bethune Medal and the honorary title of National Medical Ethics Model. Since the outbreak of COVID-19, Prof. Wei has attended many press conferences on Joint Prevention and Control Mechanism of the State Council, giving answers to the questions concerning scientific use of the eye, and myopia prevention and control. Prof. Wei won the title of "the Most Beautiful Doctor" on the Chinese Doctors' Day in 2020, recommended by the Publicity Department of the Central Committee of the CPC and the National Health Commission.