Recently, the "Top 100 National Rheumatology and Immunology Experts Academic Influential Ranking" was released. Four rheumatology and immunology experts from Anhui Medical University are among the national top 100, the most selected and ranked highest in Anhui Province.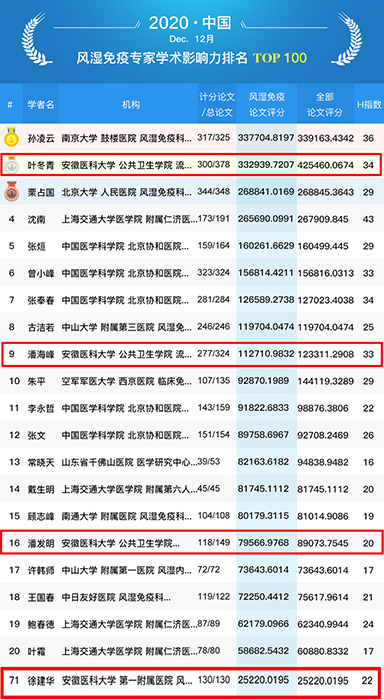 In the ranking list are Professor Ye Dongqing, Professor Pan Faming, and Associate Professor Pan Haifeng from the Anhui Laboratory of Inflammatory and Immunological Diseases in our university, and Professor Xu Jianhua from the Department of Rheumatology and Immunology of the First Affiliated Hospital. Three of them were among the top 20. And Professor Ye Dongqing ranks second in the nation and first in the province.
The "Top 100 National Rheumatology Experts Academic Influential Ranking" is an evaluation method, index system and mathematical model of experts' academic influence based on the paper database of global scholars. The ranking is sorted by total points, and it also displays the total number of papers and H index of experts. The ranking helps academic peers to understand each other, learn from each other, use scientific research results for reference, and jointly promote the progress and development of the discipline.