From September 22nd to September 24th, 2021, University of Technology MARA, Malaysia, AHMU overseas partner, held an online cultural exchange activity "International Remote Exchange and Interaction: Beautiful Sarawak". Nearly 30 students majoring in Health Service and Management (Sino-America joint program) from School of Health Management were invited to participate.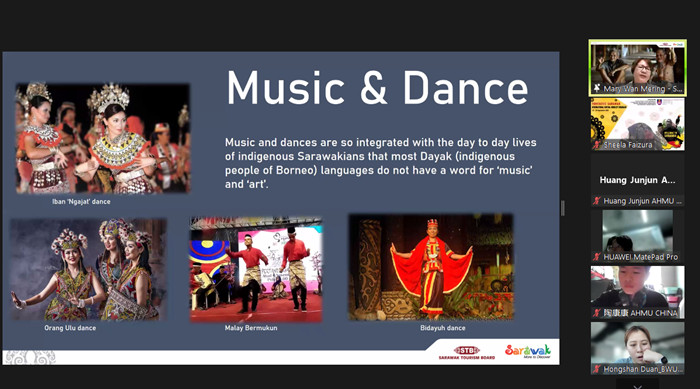 The online event lasted for three days. Through online teaching, group discussion, video display, guest Q&A, etc., it introduced the tourist attractions, traditional culture, ethnic musical instruments and dances, handicrafts, and local food in Sarawak, Malaysia. The atmosphere at the wonderful event was warm and friendly. The teachers and students who participated in the activity had interactive learning and passed the test. Through participating in this activity, teachers and students of AHMU have experienced the unique Malaysian language, art and culture, broadened their horizons and enhanced friendship. After the event, the organizer issued certificates to participants.
More than 100 teachers and students from universities in Shanghai, Beijing, Thailand, Indonesia, and Malaysia also participated in this event.