The Conference on Research Advisors Appointment and Research Cooperation Launching was held in the SecondAffiliated Hospital of Anhui Medical University on the afternoon of April 16, 2018. The deputy dean of the University's School of Public Health, Professor Xu Dexiang, attended the meeting, leading a delegation of 12 experts and professors from the various disciplines and departments. Secretary of CPC Party Committee of the hospital, Yao Wenbing, President Lu Chao, Vice President Zhang Ye and Zhao Hui, and 12 directors of the hospital's corresponding clinical and medical technology departments were present. The meeting was chaired by Mr. Zhang Ye.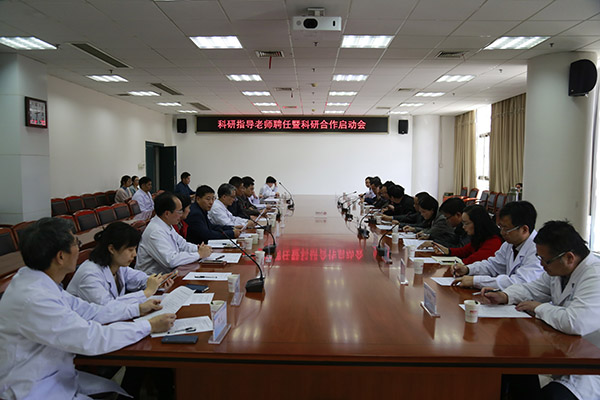 Mr. Yao Wenbing pointed out that the research cooperation between the Distinguished Research Advisors and the corresponding clinical and medical technology departments is another innovative measure to encourage the hospital's research development, following many other announced research incentive policies. Hopefully through the instruction of the experts and professors and the close cooperation with the School of Public Health, the hospital could promote the training and quality of its scientific research professionals, and improve its clinical studies and influence.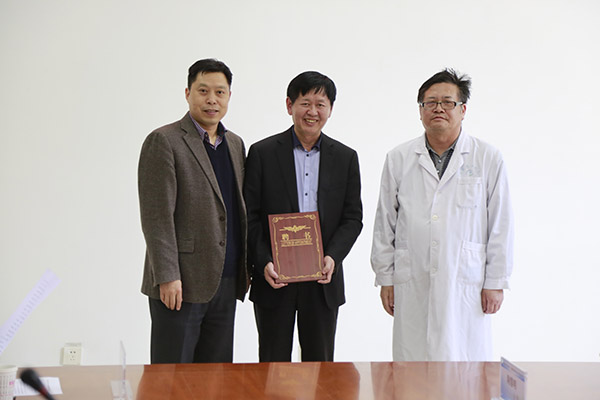 President Lu Chao issued letters of appointment to the experts present at the meeting.
Prof. Xu Dexiang spoke on behalf of the research advisors and identified highly with the measures newly announced by the Second Affiliated Hospital. He said that the University had been devoted to the cooperation between the schools and the hospital. He looked forward to embracing this opportunity to combine the research advantages of both parties, and to yield substantial achievement. He also expressed requirements concerning the construction of academic echelons within hospital departments, the refinement of research directions, and the designs of research projects.
At the meeting, experts from the School of Public Health made contact with the corresponding department directors from the hospital, and conducted academic communication.