On the morning of April 15, 2018, the third session of "Standardized Patients" (SP)& teachers training at Anhui Medical University began in the lecture hall on the ninth floor of Basic Medicine Building.
SP is also called "Simulated Patient". After special training, an ordinary person is able to reproduce the real clinical conditions consistentlythrough accurate demonstration of the patient's clinical symptoms, physical signs, and medical history. He can play the roles of a patient, an assessorandan instructor as well. Introducing the "Standardized Patient" teaching modelwill help improve the clinical skills and communication competence of medical students or young clinicians, better meet the need of the development of higher medical education and open up a new path for the teaching and evaluation of modern clinical medicine.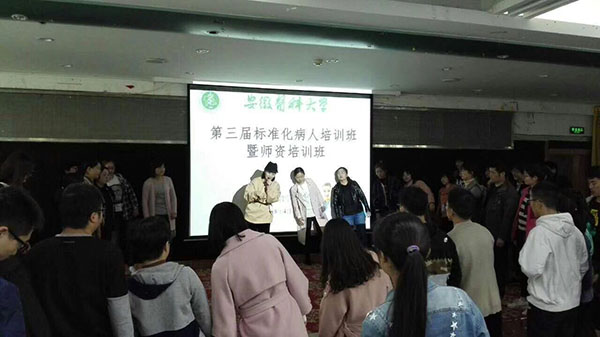 After the brief opening ceremony, the training courses started and focused on the anatomy of the human body, the basic skills of the SP performance, and the application of the SP in the resident counseling program. For the first time, a difficult clinicalscenario that truly reflected the clinical emergency scene was conducted by SP and the trainees benefited a lot from on-site observation. During the next three weeks, the trainees will complete the training tasks including scripts learning, performance training and simulation demonstrating.
It is reported that the Experimental Teaching Center started a social recruitment for "SP". A total of more than 170 volunteers signed up through the Internet, and finally 68 volunteers participated in the training after the interview. The qualified SP of Anhui Medical University has been used in the empirical research of the first stage of clinical practice physician qualifications and in many large-scale clinical competitions and examinations.