On the afternoon of April 18, 2018, Anhui Medical University held a symposium on the construction of teachers' professional ethics. Li Jun, secretary of CPC Party Committee of Anhui Medical University gave a speech and Liu Qunying, deputy secretary of CPC Party Committee of Anhui Medical University hosted the symposium.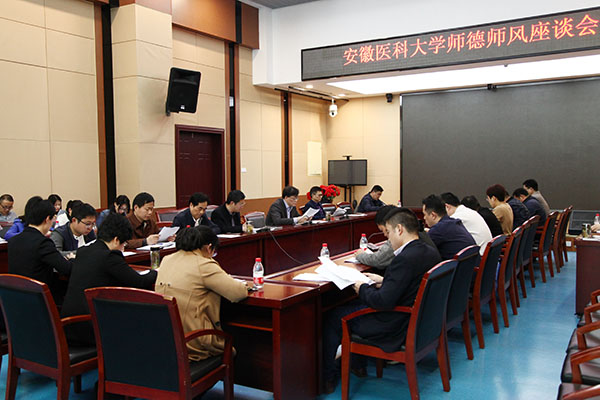 Li Jun emphasized that to comprehensively strengthen the construction of teachers' moral character and to improve the ideological and political quality of teachers is an important part of comprehensively deepening the construction of the teaching staff in the new era. As university teachers and educators, we should demand ourselves of higher morality while educating people in morality. The standards of quality require teachers to both preach and dispel doubts, but also to impart correct ideological and moral concepts so that they have standards in their mind, students in their eyes, and love in their hearts. It is necessary to guide the teachers to adhere to the unity of teaching and educating people, the unity of words and deeds, the unity of self-cultivation with questions and foci on the society, the unity of academic freedom and academic norms, and strive to be good teachers of "four possessions".
Li Jun put forward four requirements for strengthening the construction of teachers' moral integrity: to take the historical position of the new era of socialism with Chinese characteristics, to carry out the construction of teachers' morality throughout the fundamental task of "learning and training good doctors" and in the strategic task of building a high-level medical university; it is necessary to further promote the full and strict administration of the party, to promote the formation of a good university style of study and the morality of teachers; it is necessary to give full play to the demonstration role of teachers and moral model, and to promote a good atmosphere of respecting teachers and teaching; it is necessary to establish a sound and long-term mechanism for the construction of teachers' morality, and to ensure its smooth development from the institutional perspective.
At the symposium, six teachers' representatives from various teaching units and affiliated hospitals of AHMU made speeches. The symposium also focused on learning and discussing the "Opinions of the Central Committee of the Communist Party of China on Comprehensively Deepening the Reform and Development of the Teaching Staff in the New Era", the "Opinions of the Ministry of Education on Fully Implementing the Roles of Postgraduate Tutors in the Process of Education" and "Professional Ethics of Teachers of Anhui Medical University (Trial Implementation)", "Focus of the 2018 Annual Work of the CPC Party Committee's Teachers' Work Department" and issued a "Proposal for Strengthening the Construction of Teachers' Morality and Style in Anhui Medical University".
The party branch secretaries, teacher representatives, graduate student tutor representatives, and relevant functional department leaders of the university attended the symposium.