The six undergraduates dispatched by Anhui Medical University (AHMU) as the third batch of visiting students to Northeast Ohio Medical University (NEOMED) have passed the final test and successfully completed their studies. A graduation ceremony and a farewell party were specially organized by NEOMED for them.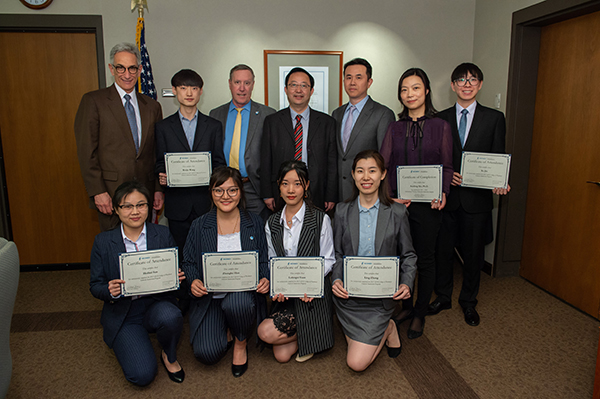 The students gave a lively presentation of their achievements in studies, practice and life, and all the experts attending the ceremony were deeply impressed by their maturity, confidence and academic progress. Dr. Gershen, president of NEOMED and Dr. Kasmer, vice president of NEOMED and dean of College of Pharmacy set a high value on the students' performance and awarded the certificates to them. Chen Feihu, dean of School of Pharmacy of AHMU was invited to attend the ceremony and during his visit he also negotiated the future cooperation with NEOMD.
This cooperative project was launched in 2015 and nineteen undergraduates majoring in Pharmacy in AHMU have been sent to NEOMED in three batches for one-academic-year clinical pharmaceutic training. With the two universities continuously perfecting the project,the courses now include Pharmacotherapeutics,Patient Care and Pharmaceutical Services,and OTC Medication Usage and the training also covers practice at the pharmacy, internship in the hospital and attending academic conferences. The project upgrades the international influence of AHMU and provides a valuable opportunity for the students to acquire the advanced pharmaceutic knowledge, broaden their vision and improve their English competence. The fourth batch of visiting students has finished their pre-training at AHMU and will head for the U.S. in August to start with their training in NEOMED.