On May 19, 2018, the 4th International Physiology Quiz(Mainland China Regional) was held in Xuzhou Medical University. Ranking the third in this national contest, the team from our university won the first prize and broke the record ever made by AHMU teamin the past years at this contest.
This event is sponsored by Jiangsu Society of Physiological Sciences in collaboration with Inter-Medical School Physiology Quiz (IMSPQ) Committee and undertaken by Xuzhou Medical University. In order to keep in line with the common practice for international competitions, this contest has been adjusted to four rounds of oral testin English plus one additional round of written test. A total number of 26 teams from 15 universities in mainland China participated in the competition, setting a new record in history. Despite intensity and difficulty of the event, AHMU team members competed with calmness and achieved excellent results with their solid knowledge and quick wit. Fighting their waythrough the tough rivals in the third round of the competition, they secured the first place in the group and succeeded in qualifying for the fourth and final round. The final round turned out to be so intensethat our team had to enterthe overtime.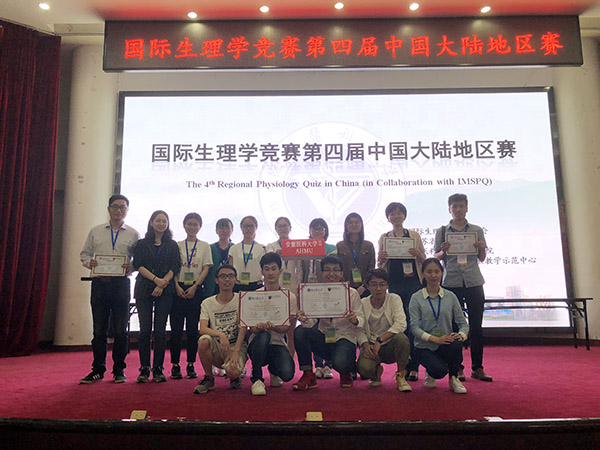 It is reported that in preparation for this contest, the Basic Medical College and the Academic Affairs Office at AHMU jointly held preliminary competition in March to draft up the best team. The "Physiology Contest for AHMUers" was conducted in Englishand attracted more than 520 contestants from different colleges. After the qualification trials, Zhou Zhinxin, Cui Lingling, Zhang Chang, Qian Han, Zheng Yongshun, Zhuang Chenyang, Wang Chenran, Gao Qinyu, Chen Sixian from the First Clinical Medical College and Ji Yang, Chen Weixuan and Zhou Taojie from the Second Clinical Medical College were finally chosen to team up for the national contest. With the support of the leaders of the Basic Medical College and the professional training of the teachers of the Basic Medical College Fan Yifei, Fang Haoshu and Du Juan, the team members prepared actively and conducted several rounds of mock contests, laid a solid foundation for their performance in the competition, and eventually brought home great honor to our university.
IMSPQ is initiated by University of Malaya in Malaysia and aims to test medical students' knowledge and application of physiology, and at the meantime to promote the inter-collegial communication in the research of the physiology education. Our team will take this regional competition in mainland China as a warm-up and strive for further achievement in the international competition held in Malaysia this summer.