From May 23 to 24, 2018, the preliminaries of "CHINA EXPLORATION —Sports & Culture Competition for Overseas Students in China of Anhui Province were held in Hefei University. A total of more than 100 students from eight universitiesincluding University of Science and Technology of China, Hefei University of Technology and Anhui University participated. TeamAHMU consists of two Chinese students and nine international students from South Africa, India, Jamaica and other countries.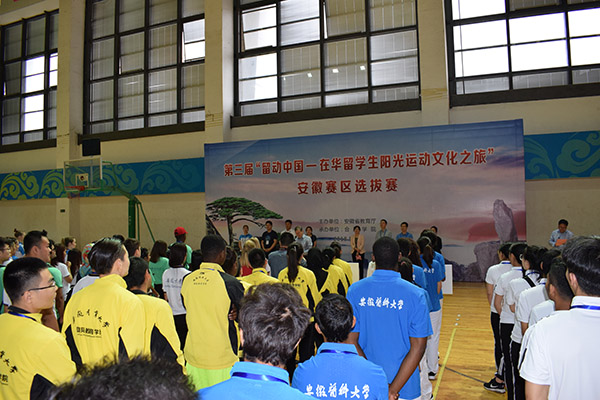 The preliminaries of Anhui Province consist of two items, i.e.,three-on-three basketballgame and orienteering competition. In the three-on-three basketball game, players of our university cooperated very well on the court, and ranked the thirdin spite of one player being injured, which fully reflected their tenacious sportsmanship. In the orienteering competition, 10 playerswere required to look for each check point in the form of relay. This is not only the test of physical fitness and quality of the players, but also the manifestation of their teamwork spirit. In the end, the team AHMUranked the third and will represent Anhui Province, along with other two university teams, to participate in the Southeast China Competition held at Jiangsu University from June 7 to June 10.
It is reported that the "CHINA EXPLORATION —Sports & Culture Competition for Overseas Students in China"is sponsored by the Ministry of Education and organized by theFederation of University Sports of China(FUSC). It aims to provide a stage for overseas students in China to experience Chinese culture, display healthy and positive images and promote communication between Chinese and overseas students throughsports and cultural activities. Observing the principle of "teamworking and Chinese-foreign integrating via sports as bridge and culture as medium",the competitionbuilds a well-known brand of overseas students' activities in China, and comprehensively promotes the international influence of studying in China. At the same time, in concert with the 40th anniversary of China's reform and opening up policy, it demonstrates the outstanding achievements of studying in China, thus further enhancesChina's cultural soft power and influence.