During the Dragon Boat Festival, the international students at our university visited Sanli'an community in Hefei City and Xin'an Hospital of Traditional Chinese Medicine. Acquainted with Chinese Dragon Boat Festival through hands-on experience, they learned how to make Zongzi from the community residents, visited the Cultural Center of Traditional Chinese Medicine and experienced the process of making sachets.
In Sanli'an community, these international students from Jamaica or South Africa etc. tried making Zongzi with the help of the community aunts and could eventually make Zongzi in different shapes though the rice kept leaking incessantly. At Xin'an Hospital of Traditional Chinese Medicine, the traditional Chinese pharmacist firstly introduced the relation between the Dragon Boat Festival and sachets. The international students from Morocco, South Africa, Jamaica, Indonesia and India and the like, then smelt the medical herbs one after another, some of whom also took pictures with their cell phones to record the appearance and efficacy of the herbs. After the traditional Chinese pharmacist demonstrated how to make sachets, the international students achieved their own works with enthusiasm.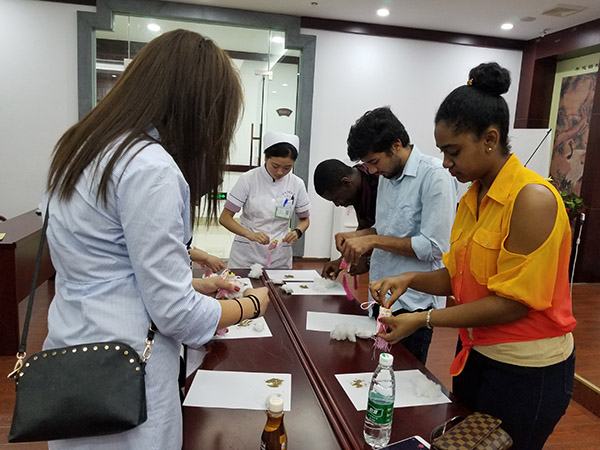 In terms of the teaching and management of international students, these are the routine activities for them to experience traditional Chinese culture and festivals. It is not only beneficial for enriching their extracurricular life, but helpful for popularizing outstanding traditional Chinese culture. Through these activities can the international students realize the rich and profound traditional culture embodied by the Festival and promote their cognition and identification with Chinese culture.