From August 15 to 17, 2018, the 16th Inter-Medical School Physiology Quiz (IMSPQ) was held at the University of Malaya, Kuala Lumpur, Malaysia. A total of 104 teams from 24 countries participated in the competition. With great efforts, the team members of AHMU finally made it to the quarter-finals, and finished with the best recorded result (the eighth place among the 104 teams and the third place among the 14 teams from China).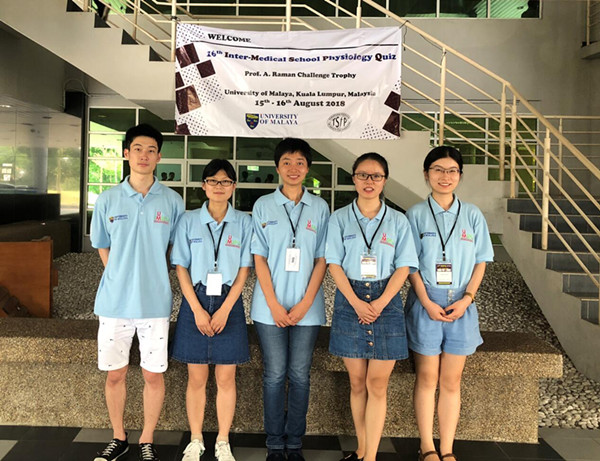 After a year and a half of preparation and series of selection tests, three students (Zhang Chang, Qian Han, and ZhengYongshun) from the First Clinical Medical School and one(Ji Yang) from the Second Clinical Medical School made the team, with Ms Fang Haoshu from School of Basic Medicine as the team leader.
The competition includes two parts: the written test and the oral test. The top 48 of the 104 teams have entered the oral test stage. With the excellent written test score(the 25th among the 104 teams), AHMU team members successfully entered the oral test. In the first round of the oral test, the team won the first place in the group and entered the quarterfinals of the top 18. In the second round of competition, the team members tried their best, but failed to enter the top 6. The team members in the whole process of the competition remained calm, and with good basic skills and extraordinary resilience, they demonstrated the considerable talent of the students of AHMU.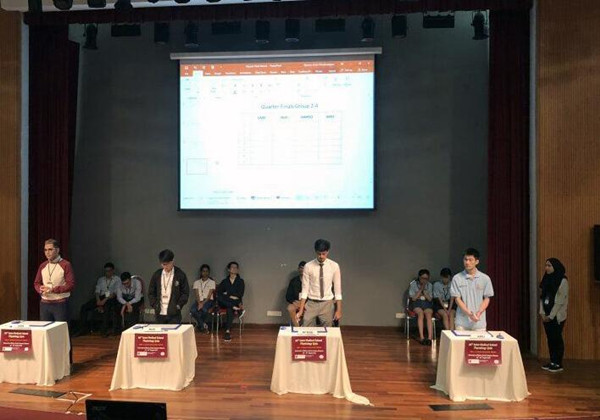 It is reported that the Inter-Medical School Physiology Quiz aims to examine the medical students' mastery and application of physiology knowledge and strengthen the teaching and research of physiology knowledge among international medical schools. In recent years, under the guidance and support of the leaders at all levels at AHMU, under the guidance of the counseling team members from the Department of Physiology, Department of Pathophysiology, and other departments, AHMU students have participated in the international physiology competition for three consecutive times and accumulated rich experience in the field. The results of the competition have been improving year by year. On the world stage, the talent of the students of AHMU has been demonstrated, which has enhanced the popularity and influence of AHMU.