On the Morning of August 11, 2018, the launching ceremony and training session for project "Screening and Management of Depression in Perinatal Women at the Primary Care Service Level" were held in Anhui Hotel, Hefei. This research was funded by National Natural Science Foundation of China(NSFC), and supported by Canadian Institutes of Health Research, Mental Health and Dementia Implementation research program. Mr. Li Jinfeng, Deputy Chairman of Anhui Provincial Commission of Health and Family Planning was invited to attend the ceremony. He was accompanied by Mr. Xiao Shenglong, Vice President of AHMU, who was the keynote speaker for the occasion.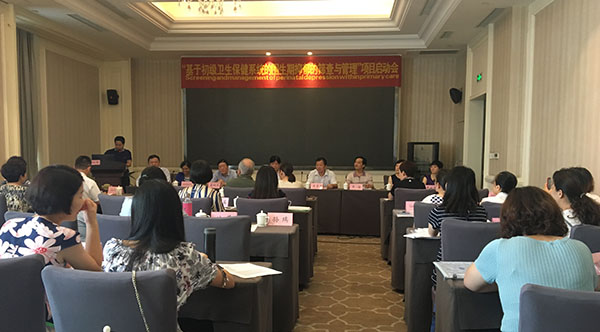 Mr. Xiao extended his congratulations to the researchers on their successful application to the Projects of International Cooperation and Exchanges NSFC. He then stressed the importance of pre and post-natal depression as the condition affecting the health of both mothers and their infants. This condition has become an important public health issue in the realm of maternal and child health(MCH) care. Therefore it would be of great social value to develop the treatments and strategies that can be better received by patients and at the mean time better applicable in our national MCH service system.
Also attending the meeting were Mr. WangHai, Chief of MCH Office at Anhui Provincial Commission of Health and Family Planning; Professor Tao Fangbiao from AHMU, Project Director on the Chinese side; Professor Premji, Head for School of Nursing, York University and Project Director on the Canadian side; and Professor Dobson from University of Calgary, Chairman of The Canadian Cognitive-behavioral Therapy Association.
Nearly fifty MCH professionals participated in the meeting and were to receive their training in a two-day course. All of them were from institutions in primary care service sectors throughout Anhui Province, including Ma'anshan MCH Hospital, Bengbu MCH Hospital,Jieshou MCH Hospital, Hefei MCH and Family Planning Service Center, as well as several basic level health providers from Hefei, e.g. Modian Health Center at Xinzhan District, Shushan MCH and Family Planning Service Center at Shushan District and its Nanqi, Wulidun and Sanli'an branches.