At the recently-ended 2018 (11th) National Computer Design Competition for College Students, AHMU made great achievements again by winning 3 National Second Prizes and 6 Third Prizes.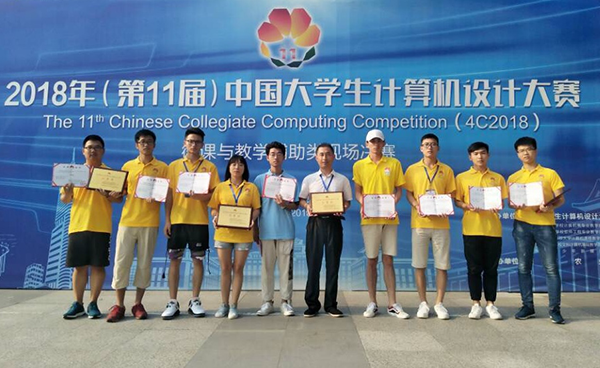 From July 17th to August 30th, the national finals of this competition (divided into 5 categories, i.e. media, micro-lecture, AI, animation, computer music creation) were held respectively in Tongling University, Nanjing Agricultural University, Nanjing University of Posts and Telecommunications, Fujian Agriculture and Forestry University, and Zhejiang Conservatory of Music. Three pieces of work by AHMU students, namely media work "AI aid AD" by Wang Jiachen's team, micro-lecture "All About Blood Types" by Bi Qing's team, and micro-lecture "The Adventures of Oxygen" by Fang Liwei's team were awarded National Second Prize. Another 6, including "LabVIEW-Based Virtual Experiment Platform for Photocuring 3D Printing", "Cell Analysis Based on Microscopic Image", and "AI-Based Biological Macromolecular Experimental System_ABRS", were awarded National Third Prize.
It is known that the National Computer Design Competition for College Students is co-sponsored by several departments in the Ministry of Education, among which are the Steering Committee of College Computer-related Majors, the Steering Committee of College Software Engineering Major, the Steering Committee of College Computer-Course Teaching, the Steering Subcommittee of College Basic Computer Teaching for Liberal Arts, together with the China Youth New Media Association. This is the fourth time that AHMU has taken part in this competition. There was no division of professional group and ordinary group in this year's final competitions in animation and computer music creation. All contestants were competing and presenting works in the same group. More than 7000 college students from 715 universities, including Peking University and Tsinghua University, participated in this competition with a total amount of 2637 works. Totally 679 person-times of students from various majors in our university were involved in the designs and took active part in university preliminaries, provincial semi-finals and national finals.