From October 19 to 21, 2018, the Eighth National Medical (Pharmaceutical) University Young Teacher Basic Teaching Skill Competition was held at Chinese Medical University. Li Feifei, from Basic Medical College of Anhui Medical University, stood out among the 51 teachers in the Basic group and won the First Prize and the Best Teaching Plan Award. This is the second time that Anhui Medical University has won the first prize since the competition was first held in 2011.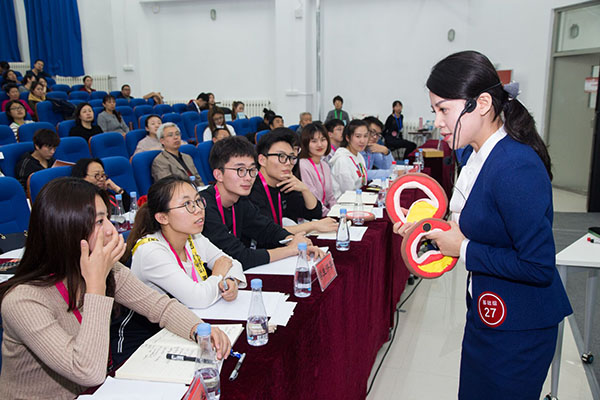 In the course of the competition, the teachers from different universities exhibited different teaching styles, new teaching concepts and varied teaching methods. Li Feifei competed with a lecture entitled "Atherosclerosis. With distinctive teaching scheme design and the use of self-made plaster teaching mold, combined with vivid and exquisite multimedia presentation, through skilled teaching techniques as well as good on-site interaction and adaptability, she displayed a 20-minute wonderful teaching procedure and left a deep impression on the judges, students and observation teachers. It fully demonstrated AHMU young teachers' excellent teaching style.
It is reported that the teaching competition is jointly sponsored by the Medical Education Branch of Chinese Medical Association and the Medical Education Professional Committee of China Institute of Higher Education. It is the largest and highest-ranking teaching competition in the field of medical (pharmaceutical) education in China, with wide coverage and great influence. The competition is attended by 105 medical institutions throughout the country, including Peking Union Medical College, Peking University Health Science Center, Shanghai Medical College of Fudan University, Shanghai Jiao Tong University School of Medicine, Zhejiang University School of Medicine, Central South University Xiangya School of Medicine, Harbin Medical University and The Second Military Medical University, The Third Military Medical University, The Fourth Military Medical University and other well-known domestic medical universities. The competition was in basic medicine group and clinical medicine group, and a contestant's final score consisted of teaching plan score (20%), expert evaluation score (70%) and student evaluation score (10%).