Recently, international students of Batch 2018 were invited to Chuntai Street to attend the Harmonious-neighborhood Cultural Daywiththetheme of "A Gourmet Feast at Chuntai, A Harmonious Neighborhood Forever", experiencing the traditions of the Chinese Winter Solstice Festival, enjoying the folklore performances of the non-material cultural heritages. The leaders and life counsellors of School of International Education, together with the Chinese members of Chinese and International Students'Union accompanied the international students to participate in the activity.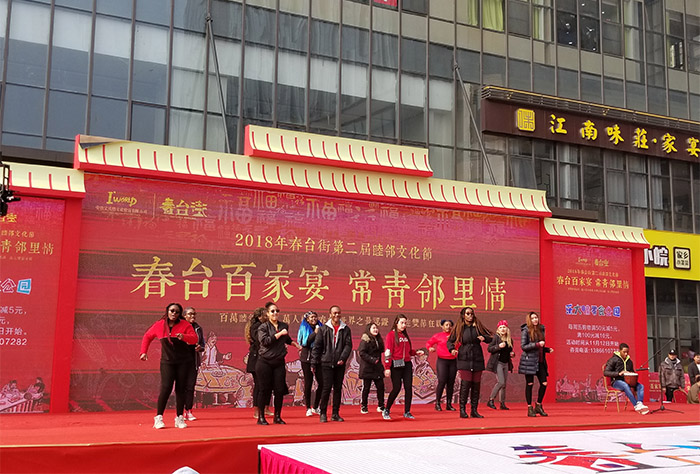 Winter solstice is a very important solar term in Chinese Lunar Calendar and Chinese people have had a tradition of eating dumplings on Winter solstice for thousands of years. The international students, seizing the festival opportunity, experienced the making of dumplings, taking part in the dumpling-eating game and witnessed the certification of World Record of "the biggest jigsaw puzzle made of dumplings",making it "a real feast of dumplings". This activity also provided a good platform for international students to experience traditional Chinese culture. Eighteen folklore performances won plaudits, including Suona of Zhou's family, which is a state-level non-material cultural heritage, shadow play and Luzhou Pyrography. When interviewed by the provincial and city news media, Salma,a Moroccan student of Batch 2018said, "The performances are so magnificent".
Although the international students of Batch 2018 have been in China for just two months, they have been enthusiastic to study and experience Chinese culture. Enjoying the folklore performances and the great food, the international students also performed famous Chinese and English songs, which expressed their understanding of "a harmonious international neighborhood".