The 11th National College Pharmacy Forum was held at Zhejiang University on December 9, 2018.
The two entries of our university have both won the First Prize of Innovation Achievement Award and Excellent Paper Award, and have obtained the best results since Anhui Medical University has participated in this forum.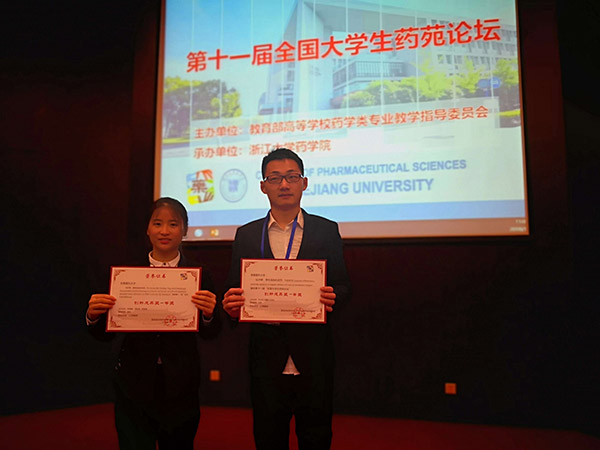 The forum includes Paper Review and Thesis Defense sessions and others. The two awarded works are PI3K/AKT Pathway Mediated Asic1a/Ers Activated Membrane Transport on PDGF Induced Hepatic Stellate Cell Activation by Chen Shanshan et al. under the supervision of Professor Huang Yan and "The Secretion of Inflammatory Factors in Membrane Protein 100 Mediated Hepatic Stellate Cells and its Mechanism" by Liu Yumin et al. supervised by Associate Professor Xu Tao.
It is reported that the School of Pharmacy has always attached importance to undergraduate education and teaching and advocates the concept of Research Serving Teaching. Through Second Classroom education to the undergraduate students and Early Contact with Scientific Researches guidance, with the efforts of teachers, the scientific research competence of undergraduates has improved a lot. Since 2013, the undergraduates of the School of Pharmacy have participated in the National College Pharmacy Forum 6 times consecutively, and have received good results, presenting the educational and teaching achievements of pharmacy specialty in our university to other colleges and universities all over the country, which has great significance for promoting and deepening the teaching reforms.