On the morning of December 17, 2018,AHMU held a cooperation signing ceremony with Hefei Innovation Research Institute, BeihangUniversity. The two sides will carry out in-depth cooperation in medicine-engineering innovation research, talent training, platform development and application transformation.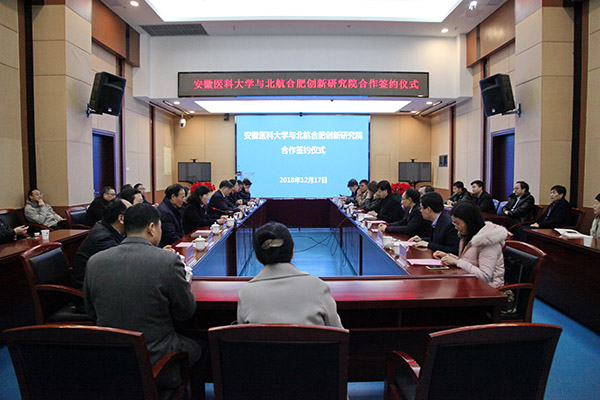 According to the agreement, the two sides will taking advantages of the medical resources of AHMU and engineering strengths of Hefei Innovation Research Institute, Beihang University, cooperate to build key laboratories and innovation centers, high-standard research platforms, train high-quality innovative talents, yield excellent research findings, promote the in-depth integration of science and technology and industry to meet the needs of national strategy and regional economic and social development.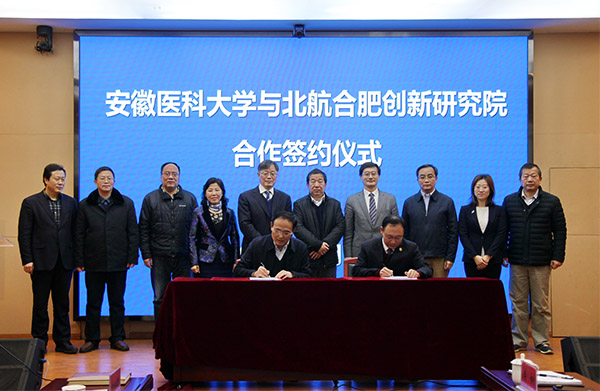 Hefei Innovation Research Institute, Beihang University, as an important scientific research and innovation platform in Hefei Science City of Beihang, has been founded in accordance with the principles of "Government support, university operation, mutual benefit and common development". The cooperation betweenthe Institute and AHMU is to initiatively focus on the needs of the national development strategy, the international academic frontier and the economic and social development of Anhui Province, and to further explore the regional linkage of higher education, which will play an important role in promoting the development of medical and health field in Anhui Province and the medicine-engineering interdisciplines.
The leaders of Anhui Department of Science and Technology, Anhui Department of Education, The Xinzhan District of Hefei and Hefei Innovation Research Institute, Beihang University and the directors of AHMU functional offices and schools attended the signing ceremony.