An American scholar, Dr.Zhou Guiyun, Senior Certified Expert on Cancer Care, was invited to School of Nursing of Anhui Medical University (AHMU) on February 23,2019. She shared her own educational experience and clinical nursing experience in the symposium.Hong Jingfang, Dean of School of Nursing, and all the graduate students and theirtutors participated in the activity.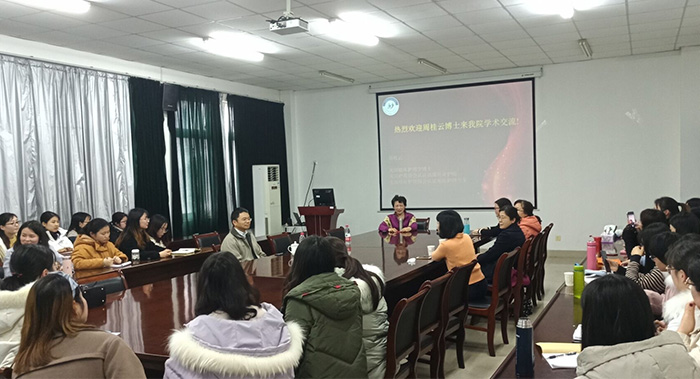 Zhou Guiyun is a Doctor of Clinical Nursing graduated from Thomas Jefferson University in Philadelphia, an American Nursing Association Certified Advanced Nurse Practitioner, as well as an American Cancer Nursing Association Certified Cancer Care Expert.She graduated from School of Nursing of former Chongqing Medical University, and went to the United States for further study in the early 1990s. And then she worked in several renowned hospitals like Hospital of Yale University, Johns Hopkins Hospital, and Hospital of the University of Pennsylvania.Dr. ZhouacquiredherBachelor's DegreeinNursing from Bethel College, Kansas, USA, her Master's DegreeinOncology Nursing from University of Pennsylvania, Philadelphia, and herDoctorate inClinical Nursing from Thomas Jefferson University, Philadelphia. She has nearly 30 years of clinical nursing experience in China and the United States. And she has been working as a Senior Nursing Practitioner in cancer clinics for more than 10 years. What's more, she is a co-founder of FZHCare.
Dr. Zhou Guiyun shared her learning experience and nursing experience in the United States,and introduced both the universality of chemotherapy in community clinics and the responsibilities of clinical laboratory nurses and nurse practitioners in the United States.
The teachers and students present had a heated discussion with Dr. Zhou Guiyun. They discussed such questions as the assessment and intervention of negative mental emotion of cancer patients, transitional care for cancer patients,and hospice care for terminal patients.