On March 30, 2019, the commencement ceremony of the new Branch of the Affiliated Stomatological Hospital of Anhui Medical University(AHMU) was officially launched in Hefei High-tech Zone. The volume of this project ranks top among stomatological specialized hospitals in China. Song Guoquan, member of the Standing Committee of Anhui Provincial Party Committee and secretary of Hefei Municipal Party Committee, attended the ceremony and announced the commencement of the project.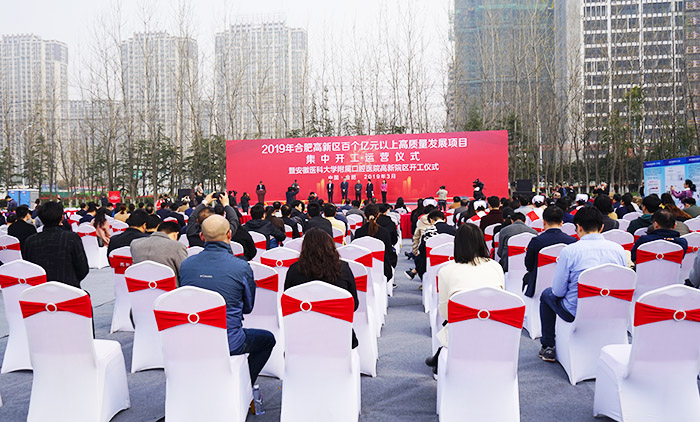 The new branch of the Affiliated Stomatological Hospital (Anhui Provincial Stomatological Hospital) is located at the southwest corner of the intersection of West Changjiang Road and Chuangxin Avenue. It covers an area of 24.2 mu with a total construction area of 68,654.05 square meters. It is planned to allocate 339 outpatient chairs and 110 beds, which is expected to be put into use in 2022. AHMU adheres to the scientific and pragmatic attitude as well as high-standard, high-level, high-starting point and high-quality planning management. AHMU plans to build the hospital into a "Level Three Grade A" (the highest level in China's hospital ranking) stomotological specialized hospital with ecological harmony, humanistic care and benevolence.
Relying on the advantages of teaching and medical resources of AHMU, the hospital when completed is expected to become the largest and most powerful stomotological specialized hospital in Anhui Province, further optimizing the allocation of medical resources among regions, and becoming the Province's important base for stomotological research and training so as to alleviate the shortage of stomotological specialists in the Province.