On March 23, 2019, Anhui Health Development Report (Green Paper) was released at Anhui Medical University, which was compiled by Anhui Research Center for Health Development Strategies, Anhui University Think Tank at AHMU. Gao Junwen, deputy director of Health Commission of Anhui Province, was present at the release conference. Liu Qunying, deputy secretary of CPC Party Committee of AHMU, attended the conference and delivered a speech on behalf of AHMU.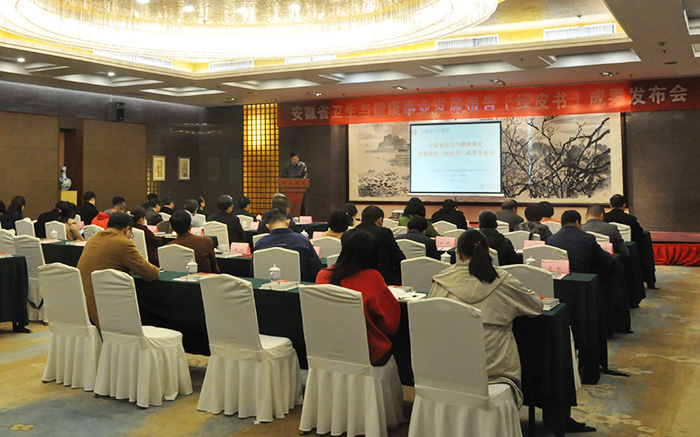 The Green Paper makes a comprehensive and in-depth summary of the recent 10-year development of health reform and public health system in Anhui Province from the authoritative and professional perspectives, carries out thematic studies of a number of major and hot issues and puts forward significant and valuable tips and strategies. The release of the report will provide a reliable basis for researchers who study the health reform and public health of Anhui Province, and provide reference for decision-making in government. Liu Qunying hoped in his talk that the think tank team would continue to take public health policy as the focus of their study and make greater contributions to the construction of "Beautiful Anhui" and "Healthy Anhui" by giving full play to the advantages of multidisciplinary collaboration and technological innovation, providing strategic measures for health development, and promoting forward-looking management of health problems.
It is reported that the writing of The Green Paper is led by Professor Hu Zhi of AHMU School of Health Management, director of Anhui Research Center for Health Development Strategies, which is the first development report released with official authorization in the field of health in Anhui Province. A number of professors and scholars of AHMU took part in the writing of this report.
The release conference was presided over by Jiang Qicheng, dean of AHMU School of Public Health. More than 50 attendees from Anhui Provincial Department of Education, Anhui Provincial Medical Security Bureau, Anhui Provincial Center for Disease Control and Prevention, Anhui Provincial Center for Women and Children and directors of the relevant departments of AHMU attended the conference. Reporters from Anhui Daily, Health News and other mainstream media also attended the conference, and spoke highly of the report.