Recently, the Global Scholars Bank released a ranking of the top 100 national hematology experts in academic influence. Professor Zhai Zhimin, chairman of the Department of Hematology of AHMU and Director of the Department of Hematology of the Second Affiliated Hospital, is among the top 100 academic influential hematology experts in China, ranking first in Anhui Province and 49th in China.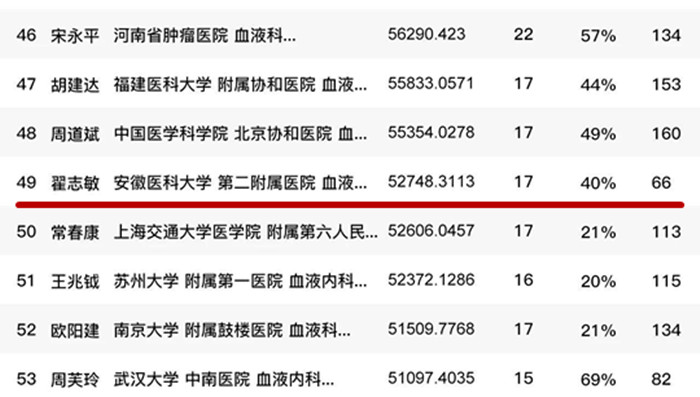 Zhai Zhimin, the first batch of academic and technical leaders in Anhui Province, "Jianghuai Famous Doctor" in Anhui Province, served as a director of the Chinese Society of Immunology, an executive director of the Anhui Anti-tumor Association, the first chairperson of the Provincial Medical Association Clinical Immunology Branch, and vice chairman of the Provincial Medical Association Clinical Immunology and vice chairman of the Provincial Hematology Branch and the Hematology Branch of the Physician Association. She has been engaged in clinical and scientific research of blood diseases for more than 30 years. She is good at diagnosis and treatment of leukemia and lymphoma. She has unique insights into the dialectical comprehensive treatment of relapsed and refractory leukemia and lymphoma, as well as bone marrow failure and other intractable blood diseases. She is proficient in flow cytometry. Accumulatively she finished 3 programs from National Natural Science Foundation of China, 7 provincial and ministerial-level scientific research projects, won 6 provincial second and third prizes for scientific and technological progress, and has published more than 300 papers in domestic and foreign academic journals, including 60 SCI papers. In addition, she took the lead in developing new technologies such as CAR-T-CD19 for the treatment of relapsed and refractory B-lymphocyte tumors in Anhui Province, bringing good news to many patients with blood diseases.
It is reported that the ranking of the Top 100 National Hematology Experts in Academic Influence is based on the massive paper data of the global scholar bank. For the field of hematology, it extensively collects relevant papers published by Chinese scholars overseas, and establishes a paper-based academic influence evaluation method, index system and mathematical model, calculates the total points of each scholar, and lists the rankings according to the total points.