On September 10, 2020, the US ESI (Essential Science Indicators) database released the latest data. For the first time, the discipline of Neuroscience & Behavior ranks among the top 1% of ESI, following Clinical Medicine, Pharmacology and Toxicology, Molecular Biology and Genetics, Biology and Biochemistry, and Immunology.
According to the statistics, within the statistical interval of the current issue of ESI data, 10,008 SCI/SSCI papers have been selected, with a total of 109,800 citations, 10.97 citations per paper, 69 high-level papers (8 more than the previous issue), and 3 hot papers (1 each in Clinical Medicine, Immunology, Psychiatry/Psychology). There are 935 institutions in the top 1% of ESI in Neuroscience & Behavior, and AHMU ranks 929th. Altogether, 605 SCI/SSCI papers have been published, with a total of 6,610 citations and 10.93 citations per paper. The data reflect that the Neuroscience & Behavior has entered a period of sound development, and the scientific research and academic influence have been significantly improved, which is a new breakthrough in the discipline development and a new achievement in the implementation of the discipline construction project at AHMU.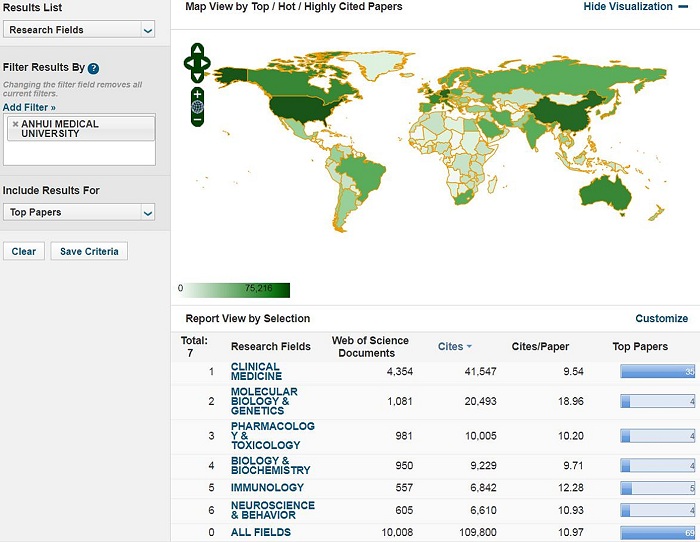 In this issue, a total of 6,745 research institutions worldwide have entered the top 1%, an increase of 133 compared with the previous issue. AHMU ranks 1,277th worldwide, moving up by 9 places compared with that of the previous issue, ranking first among Anhui provincial universities; and the world ranking of AHMU has moved up significantly throughout the year by 98 places (1,375th in September 2019).