On September 24, 2020, the contract signing ceremony of the new AHMU medical center project of Anhui Medical University was held in Hefei. The new medical center is jointly established by AHMU and Feixi County Government. Yu Aihua, member of the Standing Committee of the Provincial Party Committee and Secretary of the Hefei Municipal Party Committee, was present at the signing ceremony and made requirements for the project. Ling Yun, mayor of Hefei City, Luo Yunfeng, Municipal Standing Committee Member and Executive Deputy Mayor, Yu Dezhi, Wang Peigang, Gao Junwen, Bao Xisheng, leaders of relevant departments of the provincial government, Gu Jiashan, Secretary of the Party Committee of AHMU, Cao Yunxia, President of AHMU, Liu Qunying, Deputy Secretary of the Party committee of AHMU, Yu Yongqiang, Xiao Shenglong, and Lyu Xiongwen, Vice Presidents of AHMU, attended the ceremony.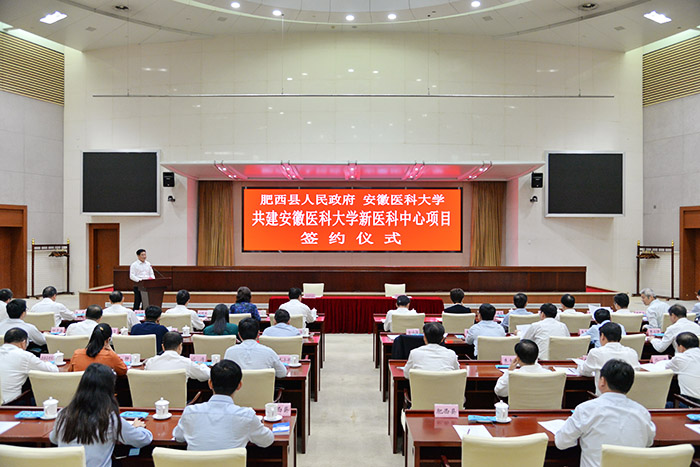 The new medical center meets the urgent need for the implementation of the "Healthy Anhui" strategy, the improvement of medical education and medical technology innovation capabilities of Anhui Province, and the improvement of the emergency response capabilities for public health emergencies. Through the full-life cycle disciplines and professional layout, the project will promote the training of medical talents that integrates medical science and engineering, provide more high-quality medical talents for the cause of healthy Anhui, and provide more high-quality medical talents and intellectual support for building a strong public health system in Anhui Province.
It is reported that the new AHMU medical center project covers an area of 2,000 mu. After the completion of the project, AHMU will form a new one-school & multi-district strategic layout, dock Yangtze River Delta integrated strategic layout, integrate into the Hefei Comprehensive National Science Center, adopt the "school + center" integrated construction model of production, study, research and application, focus on breaking through research bottlenecks in biomedicine, major diseases, public health, artificial intelligence, and high-tech materials, promote medical technology innovation, and support the development of the province's massive health industry.