A meeting commending role models in the country's fight against the COVID-19 epidemic was held at the Great Hall of the People in Beijing, capital of China, September 8, 2020. Medical personnel of our university received the commendation of advanced individuals and collectives on the scene.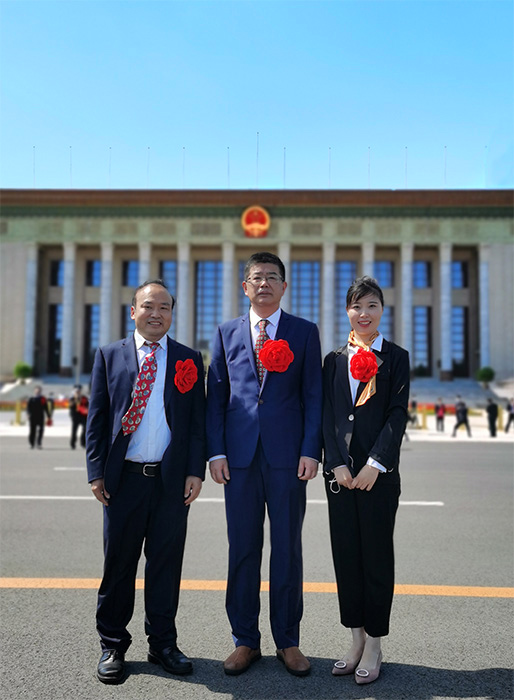 The meeting commended advanced individuals and advanced collectives in the country's fight against the Covid-19 epidemic, national outstanding Communist Party members, and national advanced grassroots Party organizations. The First Affiliated Hospital of AHMU, as the leading hospital in Anhui Province and the designated provincial medical institution for the treatment of patients with Covid-19, won the honorary title of National Advanced Collectives in Fighting Against the Covid-19 Epidemic. Shen Hang, the head nurse of the Emergency Intensive Care Unit (EICU) of the Fourth Affiliated Hospital and member of the first batch of Anhui Medical Team to Aid Hubei, and Wu Ling, the deputy director of the Infectious Diseases Department of Affiliated Suzhou Hospital and leader of the Covid-19 treatment team won the honorary title of "National Advanced Individual in Fighting Against Covid-19 Epidemic". The temporary party branch of the third batch of the Anhui Medical Team to Aid Hubei led by Wu Qibing, deputy chief physician of the Radiotherapy Department of the First Affiliated Hospital, won two honorary titles of "National Advanced Collective in Fighting against Covid-19 Epidemic" and "National Advanced Grassroots Party Organization".
After the outbreak of the Covid-19, the university kept in mind the call of General Secretary Xi Jinping that "Life weighs more than Mount Tai; the epidemic is the order; and prevention and control are the responsibility" and worked on the prevention and control of the epidemic and the development of the school at the same time. With united efforts and scientific prevention and control, crises even turned into opportunities, which demonstrated the power of Anhui Medical University.