On August 27, 2020, China's medical expert team with its leader Liang Chaozhao, the president of The First Affiliated Hospital of Anhui Medical University, its deputy Gao Yufeng, director of Infection Department, and one of its expert members of the team Yuli, the head nurse of PICU, flew to Guinea after successfully completing their mission of fighting against COVID-19 in South Sudan. At present, the expert team has arrived in Guinea for a 10-day visit to support its response to COVID-19.
On August 29, the expert team went to China-Guinea Friendship Hospital located in Conakry, the capital of Guinea. Having known the conditions of patients hospitalized with COVID-19, the functions and layout of each department and the admission and treatment process of fever clinic, they accordingly put forward some suggestions and plans about nosocomial infection control, exchanged with the experts of the hospital and introduced China's epidemic control practices. Sandy, president of China-Guinea Friendship Hospital, said, "Chinese experts' professional explanation brings the new knowledge and ideas of treatment, thus making our work more scientific and efficient, and boosting our confidence in defeating the virus."
Then, the expert team visited the settlements of local citizens and trading markets to investigate whether citizens could properly wear masks and master the protection knowledge. Liang Chaozhao said, "through those different visits, we want to offer more practical and specific suggestions depending on the local condition, so that we can support Guinea's response to COVID-19 better."
On the afternoon of August 31, after completing their work on that day, the expert team, under the coordination of Chinese Embassy in Guinea, drove to Embrasur Barre Hospital in Conakry to treat a Guinean Chinese Mr. Jiang, a critically ill patient. After inquiring the patient's medical history, symptoms, relative examinations and treatment condition in detail, the expert team ensured that they will try their best to optimize diagnostics and therapeutics and provide drugs necessary for cure. During the process of treatment, the patient and his relatives expressed their gratitude for the expert team and praised for their noble spirit of giving priority to saving lives with total devotion and ultimate love.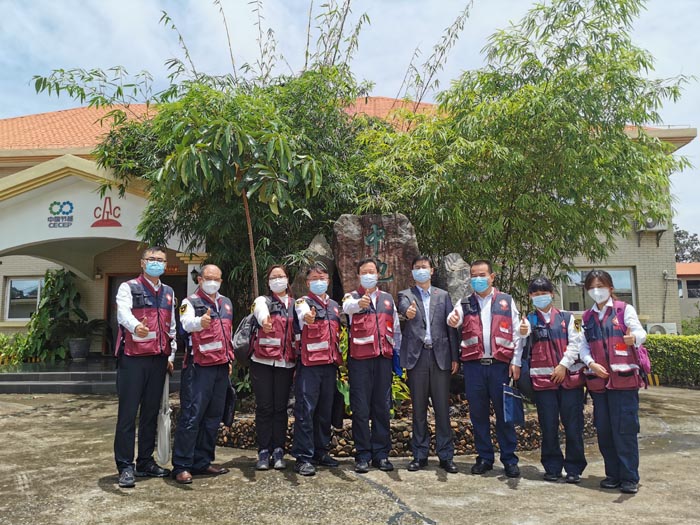 On August 27, when China's medical expert team arrived in Guinea after successfully completing their mission of fighting against COVID-19 in South Sudan, epidemic prevention materials provided by the People's Government of Anhui Province arrived along with the expert team. During the 10-day visit, the expert team will make cooperation with the Guinea Ministry of Health, overseas Chinese and Chinese enterprises there in forms of interview, discussion, training, and science popularization.