On the morning of October 14, 2021, H.E. Mr. DjauhariOratmangun, Ambassador of the Republic of Indonesia to China, and his delegation visited Anhui Medical University. GuJiashan, Secretary of CPC Party Committee of AHMU, and Cao Yunxia, President of AHMU, received the foreign guests. Liang Chaozhao, vice president, hosted the forum.H.E. DjauhariOratmangunand his delegation visited the campus accompanied by them.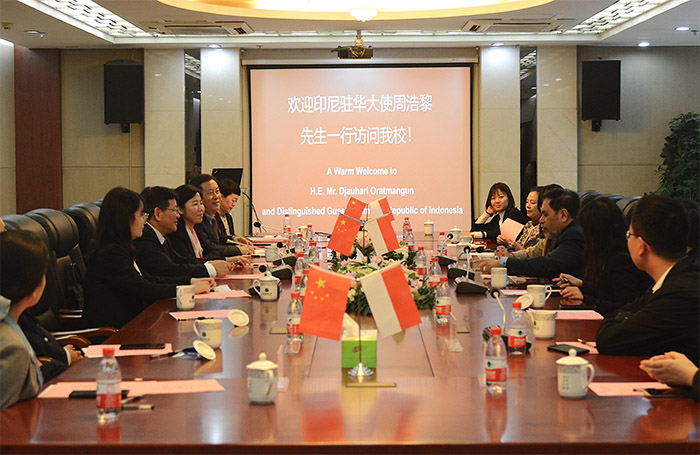 H.E. DjauhariOratmangun expressed great pleasure at being invited to visit AHMU. He also said that AHMU, as a medical university with a long history, is famous for the Traditional Chinese Medicine (TCM) discipline, which has made great contributions to China and the world in the fight against COVID-19. After the outbreak of COVID-19, China and the Chinese leaders are very concerned about the cooperation between the two sides. He hopes that through this opportunity, he can promote educational exchanges and cooperation between Indonesian universities and AHMU, especially in the research of TCM.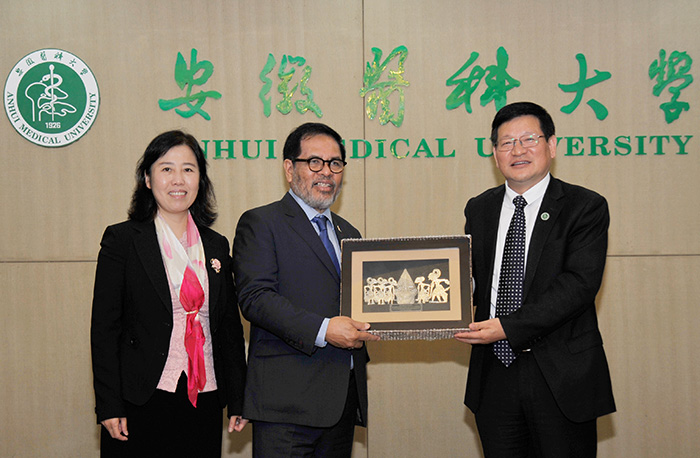 GuJiashan said that his arrival is a historic visit, which will greatly promote the understanding between the higher education as well as the medical and health industries of the two countries and carry out more cooperation. As one of the advantageous disciplines of AHMU, Pharmacy has a great influence in Anhui Province and even the whole nation. It is hoped that the ambassador's visit will promote the cooperation between AHMU and Indonesian higher education in pharmacy. At the same time, he thanked Jiren Pharmaceutical Group for its support to build a bridge of friendship. He hoped that through this communication, AHMU, Jiren Pharmaceutical Group and Indonesian researchers and enterprises could launch more research and development work.
Cao Yunxia introduced the development process, discipline construction, scientific research achievements, international cooperation of the university to the guests. She said that AHMU attaches great importance to the construction of public health system, which is one of the mobile medical treatment centers for national health emergenciesand has led the establishment of the largest public health emergency platform in Anhui Province. The university is accelerating the construction of national key laboratories and national medical centers, constantly improving the ability of scientific and technological innovation and achievement transformation with a hope of having more cooperation with higher education in Indonesia in the future.
The meeting was accompanied by the heads of the relevant departmentsincluding the Foreign Affairs Office of Anhui Province, the party and government office of AHMU, the department of science and technology of AHMU, the department of international cooperation and exchange of AHMU, The First Affiliated Hospital of AHMU,School of Pharmacy in AHMU. Representatives of Yayinyaoyikang Co., Ltd. and Anhui Jiren Pharmaceutical Group also attended the meeting.