From July 15th to 16th,2021,School of International Education organized international students to go to Wuhu City to carry out summer social practice activities.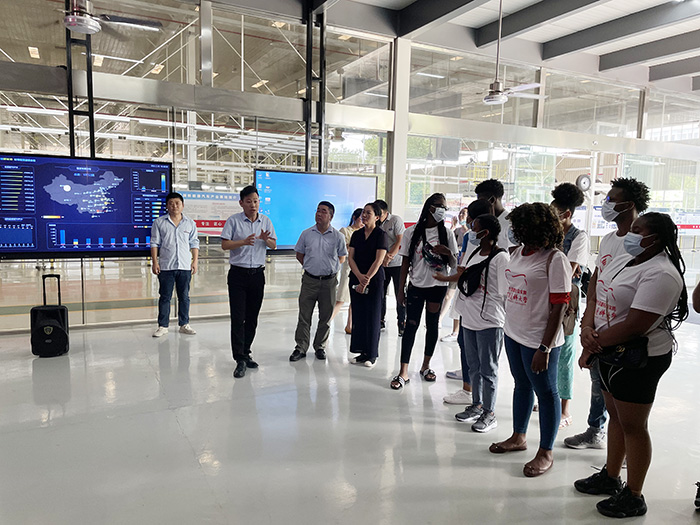 On July 15, international students came to Wuhu Chery Commercial Vehicle Company. The person in charge of the company briefly introduced the company's development history, product structure, types and future development directions to the international students, and led the students visit their production workshop and the exhibition workshop.
International students were amazed when they saw the fully computer-controlled mechanized work scene, and they had a deeper impressionon the great power of Chinese manufacturing. International students also did a test drive personally. TageraTanyalee, one 2018 batch international student who majors in MBBS from Jamaica, said: "It's really awesome. The equipment is so advanced and comfortable. After returning to Jamaica, I definitely will introduce Chery to my parents and friends and recommend them to buy cars of this brand."
On July 16, the international students came to a community called Qianwanwhich located at Baima Street, Yijiang District, Wuhu City to carry out an health related activities.Here they bring the local villagers some heat-relief and cooling medicines, and introduced them the use of these medicines and summer prevention tips carefully.
The international students also visited some villages in Qianwan Community. They got a chance tolearn more about the results of rural revitalization and construction. Sudane Dana, a 2019 MBBS major international student from Jamaica, said, "This is the first time I have seen the Chinese countryside with my own eyes. Seeing is believing. What I saw is a comprehensive, true, and three-dimensional new socialist countryside.""I hope that the international students will be able to personally experience the tremendous changes that have taken place in rural China and spread them to all parts of the world through this on-site visit, so that the world can understand the real countryside of China. said Huang Huaxing, CPC secretary of School of International Education.