From October 13 to 15, 2018 the national final of the fourth "Internet+"College Students Innovation and Entrepreneurship Competition was held in Xiamen University. Team AHMU won the bronze award with their magnificent performance.
Since the initiation stage of this competition in March, Xiamen University had made detailed plan and careful preparation for this event. Their effort in promoting the event was rewarded by the application of 823 projects, involving over 3400 participating students.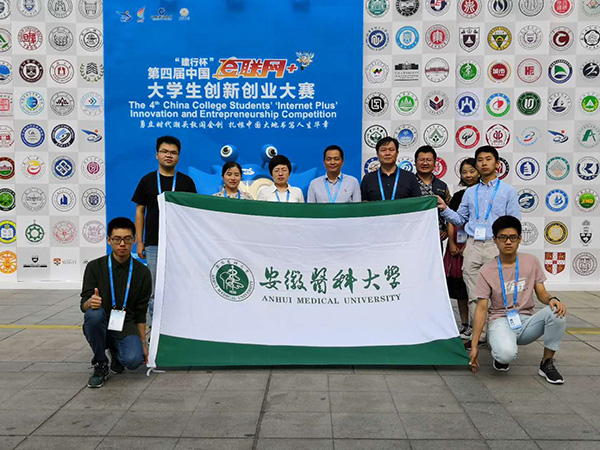 Team AHMU emerged from the best candidates with their magnificent performance.During the competition, Prof. Cao Yunxia, president of AHMU and Mr. Liu Qunying, deputy secretary of CPC party committee of AHMU, visited our team and offered valuable advice and guidance to the team members. Innovation and Entrepreneurship College of AHMU had worked hard to select the promising projects and train the participants. With the collective effort of the participating team, their coaches, the college authority and other proper authorities, team AHMU was showered with the unanimous approbation from the panel of experts. Their comprehensive quality, scientific design of the product and precise orientation of the project proved that our university had achieved success in fostering students' innovative thinking and entrepreneurial competence.
It's reported that China's "Internet+"College Students Innovation and Entrepreneurship Competition dated back to 2015, and had grown into one of the most influential event for promoting innovation and entrepreneurship. This year, the competition was co-organized by the Ministry of Education and 13 other ministries and offices. The theme of 2018 event was to highlight "Being the intrepid innovative pioneer; Breaking new ground in our great China". The competition had witnessed the record high of 640,000 projects from 2278 universities and colleges, pooling the effort of over 2,650,000 students. The goal of the competition was to deepen the reform of higher education, to stimulate the creativity of college students and to amass a new force for the innovative society.