On the morning of October 17, 2018, Anhui Medical University (AHMU) held the 2018 Double Ninth Festival's celebration of the birthday for the 80-year-old retirees of the university.Mr. Liu Qunying, Deputy Secretary of CPC Party Committee of AHMU, presided over the celebration.Prof. Li Jun, Secretary of CPC Party Committee of AHMU, was present and delivered a speech.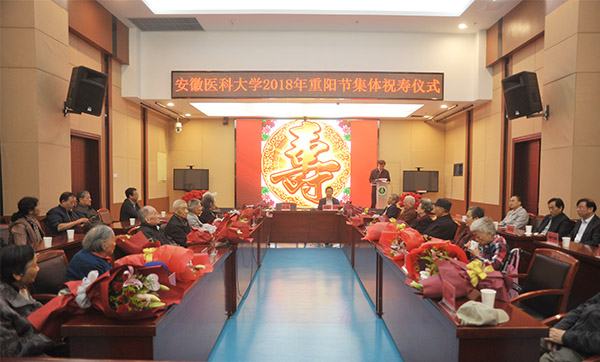 On behalf of the university,Prof. Li Jun extended congratulations to the elderly present on their 80th birthday and expressed his high regard and sincere greetings to all the retirees of AHMU. Subsequently, he made a brief introduction to the construction and development of the university in recent years.
Prof. Li Jun owed the achievements of the university to the wisdom and strength, and the work and sweat of the old comrades and retired cadres. He hoped that the retirees would continue to care for and support the development of the university, putting forward more valuable suggestions and making more contribution to the construction of a high-level medical university.
Heads of the university'sadministrative departments, heads of the departments for which these elderly men had served, the members and the Secretary of the 3rd general branch of CPC AHMU, and some representatives of students attended the celebration.