On November 2, 2020, the world-renowned ACS Nano (IF:14.588) published "Ultrastable AgBiS2 Hollow Nanospheres with Cancer Cell-Specific Cytotoxicity for Multimodal Tumor Therapy". The paper came from the collaborative work of two respective teams led by Prof. Qian Haisheng from the School of Biomedical engineering, AHMU, and Prof. Wang Hua from the First Affiliated Hospital, AHMU. Dr. Chen Benjin, a young scholar from School of Biomedical engineering, was the lead author, while Prof. Qian, Prof. Wang and Ass. Prof. Liu Tao served as the corresponding authors.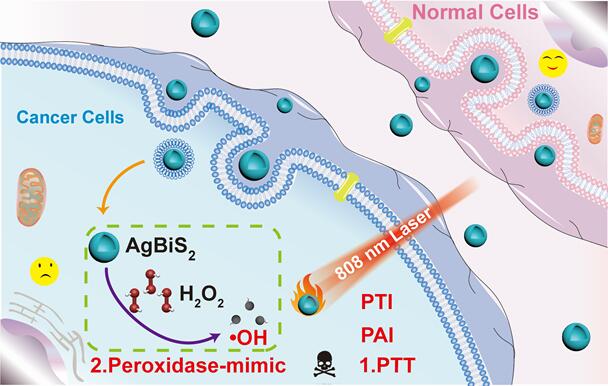 In this study, the research team prepared the hollow nanostructure of ultrastable AgBiS2 hollow nanospheres as a novel medication for tumor treatment. It featured the induction of cancer cell-specific cytotoxicity while exhibiting negligible cytotoxicity toward normal cells. By impacting on the microenvironment of the tumor and the active production of highly reactive hydroxyl radicals, the nanosphere could effectively eliminate cancer-cells and serve as an ideal candidate for targeted therapy of tumor.
Prof. Qian and his team have long been dedicated to the design and development of anti-tumor materials. This article presented yet another important research finding after their progress in gadolinium-based and bismuth-based anti-tumor nanomedicine.