July 22th, 2022, Nature Communications(IF:17.694,CiteScore:23.2), a partner journal of Nature published the latest findings of Prof. Sun Liangdan's research team at The First Affiliated Hospital of AHMU, the AHMU Key Dermatology Laboratory (Ministry of Education), Dermatology Laboratory of AHMU, and Anhui Provincial Lab of Inflammatory Immune Diseases. Their publication was entitled "Calcium/calmodulin-dependent protein kinase IV promotes imiquimod-induced psoriatic inflammation via macrophages and keratinocytes in mice", and the Department of Dermatology at AHMU First Affiliated Hospital was credited as the first author affiliation.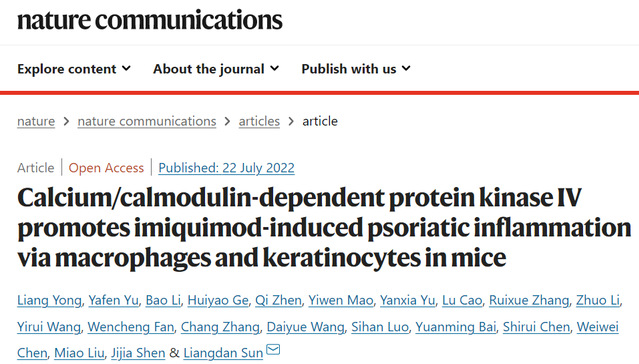 Psoriasis is a chronic and immune-mediated disease associated with environmental and genetic factors. Clinically the disease is characterized by red patchy rashes covered with dandruff-like scaling. This condition is recurrent and usually concurrent with multiple diseases such as hypertension, diabetes and metabolic syndrome, aggravating the burden on both patients and the society. Globally the disease affects approximately 125 million patients, among them 6.5 million in China. Despite the emerging therapies with biological agents, psoriasis remains incurable.
Multiple types of inflammatory cells — dendritic cells, neutrophils, macrophages, T cells — are present in psoriatic lesions and related to pathogenesis, keratinization and the proliferation of keratinocytes. The feedback loop between innate immune cells (neutrophils, macrophages and dendritic cells) and acquired immune cells (T cells) contribute to the magnified inflammatory reaction, in which myeloid cells, T cells and keratinocytes are the main players. DC/IL-23/T17 cell/IL-17/KC axis was found to be a critical constituent of the positive feedback loop. Cells and cytokines interlace to play critical regulatory roles in psoriatic pathology, pointing out a new path towards the identification of psoriatic targeting. CaMK4 belongs to the serine/threonine kinase family and regulates the expression of several genes, including IL-2 and IL-17.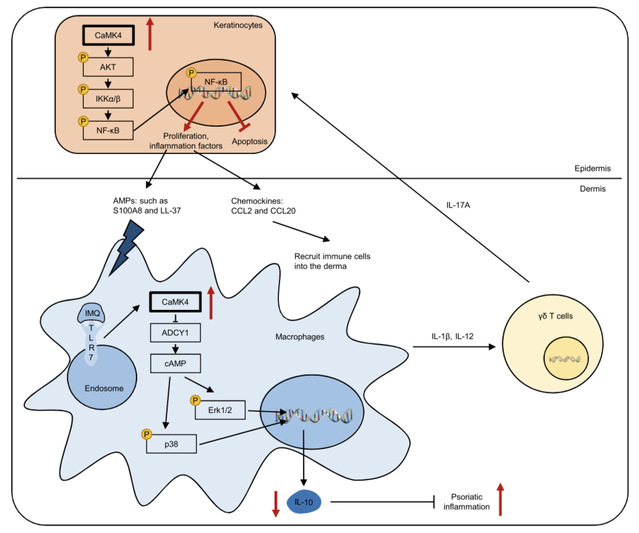 Doc. Yong Liang and Doc. Yu Yafen from Department of Dermatology and Venerology at the First Affiliated Hospital of AHMU, and Mr. Li Bao, senior lab technician from the Comprehensive Laboratory at School of Basic Medicine of AHMU, contributed equally as the first authors. Prof. Sun Liangdan worked as the corresponding author. The research was co-funded by National Natural Science Foundation of China, Leading Talent Team Project of Anhui Province, the University Synergy Innovation Program of Anhui Province, Clinical Medicine Discipline Construction Project of Anhui Medical University, Anhui Institute of Translational Medicine, as well as Summit Program of the First Affiliated Hospital of AHMU.
The article is available at https://doi.org/10.1038/s41467-022-31935-8.